Lancastrian Period 1399-1471 - The House of Lancaster
Lancastrian Period 1399-1471 ( The House of Lancaster) was turbulent period in our intriguing British History. It was a branch of the Plantagenet family of King Edward III led by his son known as John of Gaunt. John of Gaunt had a huge influence on the monarchy although he would never directly be King himself. He was father of Henry Bolingbroke and hugely rich and powerful in his own right having married Blanche of Lancaster and quickly inherited his late father-in-laws lands and wealth, becoming Duke of Lancaster as well as a Prince of the royal blood.
When the Black Prince, Edward III's rightful heir died young and left his vulnerable young son (Richard) to the throne then it was John of Gaunt who initially stepped into steady the ship and guide the young King.
The young king was Richard II but due to the inability of Richard II to govern wisely and banishing John's own son Henry Bolingbroke eventually the name of Lancaster would become its own sub-division of the Plantagenets with Henry Bolingbroke becoming Henry IV and his son Henry V succeeding him and eventually due to Henry V's untimely death his son of just 9 months becoming Henry VI.
These were turbulent and tangled times for the Plantagenets, fighting and plotting within their own house and pitching son, grand-sons and daughters against one another. The essence of the strife that led to the period we know as the 'War of the Roses' would come out of essentially a family feud. Ultimately the relative upstart Tudors with a tenuous royal claim to the throne would triumph but as we shall see the path was far from a smooth and untroubled one for England and all its population.
Time and again in the British Monarchy the failure of Kings to survive long enough to ensure the succession of their sons was secure  and stable causes unrest, and civil war. The Lancastrians initially seized the Crown of England by deposing Richard II, son of the Black prince and then entered into conflict with the House of York, another branch of the feuding Plantagenets, or at least we believed them to be previously?. More of that later. What of the events that shape the House of Lancaster and its three direct Kings Henry IV, Henry V and Henry VI?
Background to the divided Plantagenet sons of Edward III
John of Gaunt was a son of Edward III, he was only the 4th son and was therefore never realistically seen as the next king. When his elder brother died, 'The Black Prince' and his father King Edward III within a year of each other, a young and vulnerable Prince (Richard II)was left to inherit the throne with no obvious protectors. It is essential to understand the roles and relationships between the surviving sons of Edward III to understand what subsequently transpires and leads England into a protracted series of conflicts and civil war, which only during the Victorian Period would become known as and characterised as the War of the Roses:
Lionel of Antwerp 1338-1369  1st Duke of Clarence son of Edward III and brother of John of Gaunt Duke of Lancaster
Lionel was married to Elizabeth de Burgh 4th Countess of Ulster and inherited her estates. Their daughter Philippa of Clarence married one Edmund MORTIER, 3rd Earl of March. During her lifetime Philippa was heir presumptive to Richard II her first cousin until he had his own legitimate children. Richard II had no children and hence on her death Philippa's claim to the throne fell to her son Roger Mortimer, 4th Earl of March. On his death in Battle of Kells in ireland in 1398 his six year old son Edmund Mortimer rightfully would have been Richard's heir presumptive. The John of Gaunt branch via his son Henry Bolingbroke usurps his 1st cousin's claims and those of her descendants and seizes the right for himself. It is this event that between 3 sons of Edward III leads to the troubles and strife of the War of the roses. Subsequently Philippa's descendants by marriage between her line of Lionel's superior claim to John and his descendants and marriage into the powerful Mortimer family would succeed to the throne by her relative Edward IV and the connection to John's brother Edmund of Langley, see below. This does rely however on the legitimacy of Edward IV by his father's line. Which is also subsequently subject to some dispute.
John of Gaunt 1340-1399 son of Edward III, Duke of Lancaster and father of Henry Bolingbroke (Henry IV)
John of Gaunt 1340-1399 , his eldest brother the Black Prince had died, leaving his wife Joan of Kent to guide her young son as King Richard II on the death of the King Edward III, these brother's father. John of Gaunt  would become Duke of Lancaster following a judicious marriage to Blanche of Lancaster, despite being 4th son, his power and wealth was assured by the inheritance from his wife's father. Amongst his children Blanche and John had a son Henry Bolingbroke and in time he would be the first Lancastrian King, Henry IV but initially he seeks to help Richard try to become the King his grandfather would have wanted, acting as his mentor and regent. John did not make an immediate grab for the throne, he sought power and independent wealth but not the throne for himself. He is a pivotal character in the rise of the Lancastrians. We can learn more of the lancastrian line once we have a clear view of how these three brothers shaped what followed.
Edmund of Langley 1341-1402 1st Duke of York and grandfather of Edward IV and Richard III
His next younger brother Edmund of Langley 1341-1402 became the first Duke of York, marrying Infanta Isabella of Castille and their son Richard of Coinsburgh would marry Ann Mortimer and in turn have a son Richard, 3rd Duke of York (title via his Uncle Edward 2nd Duke of York, killed at Agincourt, his father (Coinsburgh) was executed by Henry V for treason and he was himself married to Cecily Neville. His wife was a member of the NEVILLE family that included the Earl of Warwick, see (House of York and Edward IV) The plot thickened. Richard as 3rd Duke of York would end his life in conflict with the arguably last of the Lancastrian Kings, Henry VI and whilst he would lose his head his sons in name at least Edward IV and Richard III would rule as Monarchs of the House of York.
In recent years and at the time of Richard III, subsequently seizing the throne from Edward IVs son, Edward V (one of the Princes in the Tower.) the legitimacy of Edward IV by his own Mother's statement and facts that suggest Richard 3rd Duke of York could not have been his father as it would have required an 11 month pregnancy for Cecily Neville, which is scientifically impossible suggests Edward IV was not Richard 3rd Duke of Yorks son and hence he was not legitimately King either.
The entire basis of the War of the Roses, depends upon the relationships between Edward III's sons and the legitimacy or not of certain claims to the royal line but it does not stop there and continues to the 21st century with the dilemmas over the legitimacy or not of the DNA in Richard III's line as well. It remains to be proven but it could be that neither Edward IV or Richard III (the House of York )were legitimate royal line kings. But could the same kind of questions about legitimacy right down to the current day House of Windsor?
It maybe that the family tree legitimacy is proven in time to be somewhat of a sham or farce as political strength, wealth, ruthless power and political will have most likely determined who survived as monarch rather than divine or anointed rightsto be King or Queen. The further dimension ff the Tudors we an consider later but its vital to understand the precise family history and supposed connections of the Tudors and their royal line or otherwise as we progress.
For the current time, there is more than enough meat to consider in terms of where the House of Lancaster fits within this grand drama.
John of Gaunt 1340-1399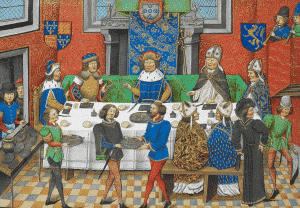 1359 on the 19th of May John married his 1st Wife Blanche of Lancaster,at Reading Abbey in Berkshire.
1371  John married Constance of Castile, his 2nd Wife, from this marriage he acquires his royal stats as King of Castile and deep involvement of the affairs of south-western Europe as at first Lieutenant of Acquitaine
initially loyal to his nephew Richard II tensions mounted over time with the adolescent King
1386 John sailed to defend his rights to Castile and Leon
He conquered Galicia but even in alliance with Portugal his resources were inadequate
1387-1388 he negotiated the Treaty of Bayonne renouncing his claim to the Spanish throne in return for £1ook and an annual pension.
1389 His return to England was marked by his gratly enhanced wealth and the end of the 'Crisis of the Apellants'
1390 his European role was consolidated as Duke of Aquitaine
1396 to general astonishment he married his long term mistress Catherine Swynford and  then secured the legitimisation of their children the Beauforts
1397-1398 suffering from increasingly poor health he acquiesced  Richard II's revenge on the Appellants and agreed to the exile of his own brother Thomas of WOODSTOCK and his own son and heir Henry BOLINGBROKE, the future Henry IV. He did manage to get Richard to agree the reduction of his sons exile from 10 years to 6, his last act of influence.
1399 John of GAUNT's death was the last act to usher in the final crisis in Richard II's reign.
Henry IV (BOLINGBROKE) 1366 - 1413 King 1399 to 1413
Henry Bolingbroke banished in exile by Richard II with the agreement of his own father, robbed on his death of the Duchy returns to claim more then his Duchy.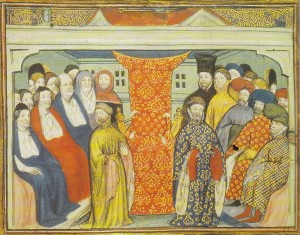 1380 married Mary de BOHUN (she died 1394) co-heiress of the Duke of Hereford
1387 one of the Apellants and victor at RADCOT BRIDGE
1390s chivalric reputation enhanced by crusades and a pilgrimage to Jerusalem
1398 in tense political climate exiled by Richard II for 10 years commuted to 6 on appeal of his father but meanwhile Richard also seized the Duchy of Lancaster which was Henry's rightful inheritance
1399 with a contingent of just a few hundred men Henry returns from France, to reclaim his robbed inheritance and positions himself  as a champion of the people against a tyrannous King.

Richard was deposed and imprisoned and by the following spring had been murdered by Henry's men

1401-1406 Parliament complained vociferously about the costs of the royal household , taxes and excessive annuities,
The PERCY family had helped Henry claim the throne and supported his claims but cash strapped he struggled to reward them accordingly and to put down the Glyn Dwr revolt effectively.
1403 - 1408 Henry swiftly reacted to the Percy Rebellion with victory at Shrewsbury , although it was not until 1408 that his baronial enemies finally gave up.
1405 Henry executed Richard SCROPE Bishop of York , subsequently his health suffered with inexplicable illness, he could rarely lead his troops again and battled to avoid calls for abdication in favour of his eldest son, the future Henry V at least once in 1411.
1411-1413 Henry hardly leaves London other than to visit Canterbury and Beckett's shrine in particular. opting to be buried there with his 2nd Wide Joan of Navarre when she died. Henry was just 46 when he died.
Henry V (b1387 d1423) was King 1413-1422
1399 became Prince of Wales within a month of his father's accession to the throne
1411 actively involved in politics of the time and tensions were mounting in relationship with his father the King and probably behind move to force his father to abdicate which failed
1413 early threats to his reign with;

Oldcastle Rising, Oldcastle an old friend of Henry was discovered to be a Lollard and was sentenced for heresy, escaping he plotted a coup and evaded capture for 3 years. Eventually executed in 1417 the failure of the plot suppressed any hopes of upper class support for the Lollard cause and was
1415 Southampton Plot, Edmund MORTIMER'S attempt to  replace Henry as King. He was the Earl of March and the pot was revealed by himself on the eve of the Kings embarkation for France from Southampton. The co-conspirators were led by the Kings cousin the Earl of CAMBRIDGE  confessed and was executed in the same year.

1415-1420 pursuing his right he believed for divine support in his fight and battle for the French crown he marched through France via Normandy to Agincourt winning enormous support from home;

he received all the support he required for 5 years from Parliament, never again would a French army stand in his way
he imposed English rule and government even with documents written in English
built Naval supremacy, removed any enemy threat from the Channel

1417 ruthlessly conquers Normandy with his second army
1420-1423 with the treaty of Troyes in place, recognised by Charles VI of France as his heir, he marries his daughter Catherine of VALOIS , the very next day setting off to march across his kingdom he catches dysentery and dies a few weeks before his father-in-law.
Pious, disciplined and an effective monarch, admired by enemies and subjects he achieved dominance and financial viability that would survive him in France for the next 20 years, opinion is divided as to whether he was the perfect monarch, the cost of his success being the suffering of his taxpayers for conquests which in the long term could never be maintained? He left a baby of just 9 months to pick-up his mantle.
Henry VI A Baby of 9 Months as King (b 1421 d 1471)
King of England (1422-1461 and 1470-14710 and France with the death of his father and grand-father before reaching the age of 1, was his fate sealed before he could been even aware of the demands that would be required of his person in the years to follow.
During his minority the governments of boTh England and France were surprisingly effective.
1437 when he achieved his majority was when problems started to multiply. His love of peace is likely to have been genuine but was accompanied by his inertia.
1430-1432 was the only time he visited his French kingdom
1445 he married Margaret of ANJOU and had promised to surrender MAINE in France to her Uncle Charles VII who as Dauphin had declared himself King of France within two weeks of Henry being proclaimed. This promise had to be kept secret for 3 years from even Henry's own advisers.
1448 The assignment of Maine was finally made public.
1449 - 1453 humiliating defeats in the closing stages of the Hundred Years War shocked his English subjects and led to CADE's Rebellion and culminated in both the loss of Normandy and Acquitaine.
1453 - 1455 after the news of CASTILLON the king suffered a serious breakdown and his role inevitably became at best passive or absent from the affairs of state.
1455 he relieves Richard of York from the second protectorate
1459 King confronted the Yorkists at Ludlow but his role was largely symbolic, passed from hand to hand and at least contributed to the growing difficulties and slide into the War of the Roses.
1461 his wife Margaret removes Henry to Scotland following the crushing defeat by Edward IV at Towton for his own protection.
1471 Edward's forces at Tewkesbury prevented Margarets forces from joining-up with the Welsh across the Severn and led to the death of the King and Margaret's only son Prince Edward as he fled the field, effectively bringing the War of the Roses to an end as Henry no longer had a line of succession to defend his lineage.
In April of 1471 as the last of the Lancastrian's Henry, Edward IV concluded the threat had to be removed and had Henry murdered, removing all Lancastrian legitimate claims to the throne.
Henry's was perhaps a doomed life having inherited the throne so early but he failed to learn, lost the throne twice of England and all of its french dominions apart from Calais. His reign saw the divisive war of the Roses dilute England's own might and his subjects suffered. The close of the House of Lancaster's reign was not a happy one.
Edward IV would now lead the rise of the House of York with a very contrasting style of Kingship but his own woes and coups to battle in the future.To explore what happens in the line of the House of York click here
Dates
House of Lancaster and York were branches of the Plantagenet lines separated by 3 brothers ad their children they would impose a long protracted period of civil unrest and war that cost England and its nobility of great families dearly.
Categories
1242
Taillebourg campaign: Louis IX defeats Henry III
Henry III Plantagenet
1483 - 1485
Richard III
York
1199
Richard I killed at Chalus; John and Arthur of Brittany dispute succession. John has Arthur murdered and inherits the Crown.
Plantagenet Richard I Chalus King John Lackland Arthur of Brittany
1154-1399
PLANTAGENET PERIOD 1154-1399
Plantagenets
1202
Philip II declares the confiscation of all fiefs held of the crown of France.
Philip II King John Plantagenet Angevin Empire
1202-1205
Philip II conquers Normandy and Anjou from the Plantagenets.
Plantagenets Losses King John
Philip II
1193-4
Philip II Augustus invades Normandy and Anjou.

Plantagenet Normandy Anjou
1224
Louis VIII captures La Rochelle.
Henry III Plantagenet Louis VIII
1206
King John recovers Gascony and the Saintonge.
Plantagenets
King John
Gascony and Saintonge
1214
John and his allies defeated at Rocheau-Moine and Bouvines
King John
Plantagenets
France Losses Rocheau-Moine and Bouvines
1422 - 1461
Henry VI
Lancaster
1413 - 1422
Henry V
Lancaster
1399 - 1413
Henry IV
Lancaster
1156
Henry II's brother Geoffrey (namesake of his father Geoffrey Plantagenent) resigns his claims to Anjou.
Plantagenet ad Angevin Empire
1183
Henry II suffers further rebellion followed by death of Henry II's son Henry the Young King.
Henry II Plantagenets
Henry the Young King
1157
Henry II recovers Northumbria from the King of the Scots.
Plantagenet Henry II Northumbria
Scots
Scotland

1189
Henry II is defeated by Richard I and Philip II Augustus and Henry dies soon afterwards
Henry II Plantagenets
Richard I Lionheart or Coeur de Lion
1157-1165
Henry II invades Wales four times.
Plantagenet Henry II
Wales
1171-1172
Henry II invades Ireland.
Henry II Plantagenets
Ireland
1166-1168
Henry II invades Brittany and install his son Geoffrey as Count of Brittany.
Henry II and his son Geoffrey as Count of Brittany
1177
Henry II creates John Lackland later King John as Lord of Ireland.
Henry II King John
Plantagenets
1159
Henry II captures Cahors during his Toulouse expedition.
Plantagenet Henry II
Cahors Toulouse Expedition
1152
Henry II (son of Geoffrey) married Eleanor of Aquitaine.
Plantagenet and Angevin Empire Henry II
Eleanor of Aquitaine
1128
Geoffrey PLANTAGENET (Count of Anjou, father of Henry II) marries Empress Matilda at Le Mans.
Plantagenet and Angevin Empire Geoffrey and Matilda
1136-44
Geoffrey conquers Normandy
Plantagenet and angevin Empire
1204
Eleanor of Aquitaine mother of King John dies, Poitou recognised Philip II and Alfonso of Castile invades Gascony.
Plantagenets King John Losses
Eleanor of Aquitaine
1483 (not crowned)
Edward V
York
1327 - 1377
Edward III
Plantagenet
1215
Barons Rebellions and Magna Carta
King John
Magna Carta
Plantagenets
1153
Treaty of Winchester
following the Anarchy and discord about the line of succession in England the Treaty of Winchester is negotiated with input by Henry de Blois, who was the Grandson of Norman the Conqueror, Henry II finally recognises Stephen de BLOIS , the brother of Henry de Blois as his heir.
Anarchy Treaty of Winchester Henry de Blois Hampshire History
Stephen de Blois
Henry de Blois Grandson of William IConqueror
1259
Treaty of Paris signed 1259
Henry III resigns all claims to Normandy, Anjou and Poitou. Between his father King John and Henry III all the gains of the Angevin Empire have been lost and wiped out.
Henry III Plantagenet
King John
1200
Treaty of Le Goulet; Philip recognised John as heir to the Angevin Empire.
Philip II King John Plantagenet
Angevin Empire
1201
Revolt of the Lusignans (the leading aristocratic family of Poitou in the 12th century
Lusignans played an important part in the politics of the Angevin Empire. It is this revolt following John's marriage to Hugh of Lusignan's fiancée Iasbella that precipitated the collapse of accord and the cohesion of the Angevin Empire.
Plantagenet
Angevin Empire
King John
1216-1217
Louis of France invades England (later becomes Louis VIII.) He invades at the invitation of the Rebel barons an attacks Dover Castle, He occupies the South of England. See Medieval Tunnels and underpinning foundations of the castle. King John dies in 1217.
King John
Invasion of England of a sort
Louis VIII of France
Dover Castle Medieval Tunnels
1216 - 1272
Henry III son of king John becomes King
Henry III
Plantagenet Henry III
1173-1174
Eleanor and her sons rebel again Henry II
Eleanor of Aquitaine and her sons (Henry the Young King, Geoffrey and future Richard I of Coeur de Lion fame, ) rebel against Henry II their father.
Henry II Plantagenets Eleanor Aquitaine
Geoffrey Henry the Younger and Richard I
1377 - 1399
Richard II
Plantagenet King son of the Black Prince and Joan of Kent, Grandson of Edward III and his Queen Philippa of Hainault.
1189 - 1199
Richard I
Plantagenet Richard I coeur de Lion the Lionheart
1199 - 1216
John
Plantagenet King John Richard I
1154 - 1189
Henry II
Plantagenet
1461 - 1483
Edward IV
Son of Richard 4th Duke of York and Cecily ...Edward is the 1st York King with claims to Royal bloodlines from both sets of grand-parents.
1307 - 1327
Edward II
Plantagenet
1272 - 1307
Edward I
Plantagenet
House of York
1461-1485
House of Lancaster
1399 - 1485